Tongue Tied is the sixth episode of the third season of Littlest Pet Shop and the fifty-eighth episode overall.[2]
Overview
Downtown City pets find out that Blythe can understand them; a ferret causes Blythe to doubt her abilities.
Cast
Continuity
Trivia
Minka's line "What you have here is a failure to communicate." is a reference to the film Cool Hand Luke.
The song Blythe sings at the beginning is similar to what a Disney Princess would sing, complete with animals doing stuff for her even the blue birds.
Gallery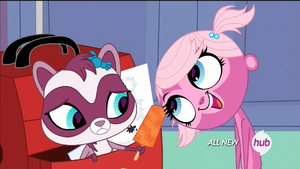 References
Ad blocker interference detected!
Wikia is a free-to-use site that makes money from advertising. We have a modified experience for viewers using ad blockers

Wikia is not accessible if you've made further modifications. Remove the custom ad blocker rule(s) and the page will load as expected.