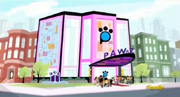 The Pawza Hotel 
is a 5 star luxury pet hotel. It has a private spa, luxury suties, crystal chandeliers, a tennis court, a swimming pool, an indoor ice skating rink, and more. It's owned by
Sophie
. I
t's only
known employee is
Madison
, who designed The Pawza's website.
Profile
In A Night at the Pawza, Littlest Pet Shop is overrun by ants, therefore closing the petshop for a few days to relocate said ants. Mrs. Twombly and Blythe end up taking the pets to The Pawza, where they find it rundown, despite what the website showed them. After talking to the owner, Sophie, they decide to help The Pawza get cleaned up and ready for business.
Gallery
Ad blocker interference detected!
Wikia is a free-to-use site that makes money from advertising. We have a modified experience for viewers using ad blockers

Wikia is not accessible if you've made further modifications. Remove the custom ad blocker rule(s) and the page will load as expected.