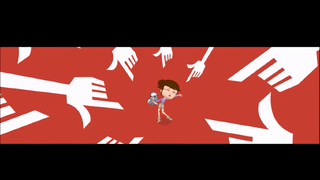 The Guilty Tango is a song from Guilt Tripping sung by Blythe and Pepper.
Lyrics
[Blythe]

I picture Whitney, she's on that barge
The drum beats heavy and the oars are large
She looks unhappy, and her hands are sore
They keep her working 'till she hits the floor
[Pepper]

I'm in deep doo-doo, I'm quite a wreck
It's like two boulders wrapped around my neck
I wish I never, ever saw that rock
The weight so heavy I can barely walk
[Both]

The guilty tango
The voices screaming out inside your head
The guilty tango
You wish you didn't, but you did instead
[Blythe]

Oh, then there's Brittany, she's hanging there
The gators hungry, snapping for her hair
It seems quite vicious and such bad luck
She paid 700 bucks for that haircut
[Pepper]

What will Vinnie do to me?
Make me feed him flies?
I'd rather face a crowded house
Of spoiled banana cream pie!
[Both]

The guilty tango
The voices screaming out inside your head
The guilty tango
You wish you didn't, but you did instead
The guilty tango
Your conscious nagging as it fills your ears
The guilty tango
The dance could carry on for years and years