The
Sweet Delights Truck
is a catering truck for
Sweet Delights
. It was first shown in
Sweet (Truck) Ride
.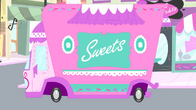 Profile 
In its first episode, Sweet (Truck) Ride, Aunt Christie bought the truck to be a catering truck for her sweet shop, Sweet Delights. It was revealed that Sugar Sprinkles lives in the truck. Later in the episode the pets acidentaly drive the truck off, twice. The Sweet Truck catered to the Father-Daughter Picnic.
In Super Sunil, Aunt Christie, Youngmee, and Blythe, try to find a good parking spot to sell Aunt Christie's new, Not to Sweet Sandwich. Unfortuanly once they find the perfect spot, the Biskits snatch said spot before the Sweet Truck can park. After days of trying the Sweet Delights Truck finally got the pefect spot and the sandwiches were a big hit.
Gallery
Ad blocker interference detected!
Wikia is a free-to-use site that makes money from advertising. We have a modified experience for viewers using ad blockers

Wikia is not accessible if you've made further modifications. Remove the custom ad blocker rule(s) and the page will load as expected.