Unless you already have a name.
My Small Squirrel is not a birthname.
My Small Squirrel is a short song in Blythe's Pet Project.
Lyrics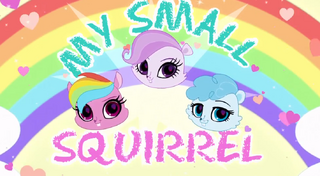 Blythe Baxter : Just picture it!
[-]

My small squirrel
The very smallest a squirrel can be!
My small squirrel
They`re happiest up in a tree.
Squirrel №1 : Hi Lavender! Hi Cotton Candy!
Squirrel №2 : Well, triple-hi to you, Multi Colored Stripe! Let's go make new squirrel-friends!

My small squirrel
The very s...
Shivers : Seriously?
Trivia
It`s a parody of My Little Pony, which is another franchise owned by Hasbro and aired on Discovery Family.
Ad blocker interference detected!
Wikia is a free-to-use site that makes money from advertising. We have a modified experience for viewers using ad blockers

Wikia is not accessible if you've made further modifications. Remove the custom ad blocker rule(s) and the page will load as expected.