It's a Happy, Happy, Happy Happy World
Season 4, Episode 18

Production Information

Air Date
April 16th, 2016
Written by
Eric Rogers
Supervising director
Joel Dickie
Directed by
Steven Garcia
Mike Myhre

Episode Guide

Previous
Next
A Doggie Biskit
Race Team: Buttercream
 It's a Happy, Happy, Happy, Happy World is the eighteenth episode of the fourth season of Littlest Pet Shop and the ninety-sixth episode overall.
Overview
In order to help Sunil seek happiness, the pets go on an adventure around Downtown City; Blythe loses her mother's journal and must figure out how to get it back.
Cast
Continuity
Trivia
The title and plot is somewhat similar to the famous film, It's a Mad, Mad, Mad, Mad World.
Pepper has acrophobia.
Minka tries to say "Come with me if you want to live" which is a quote from the film Terminator. But she can't remember which correct word is used.
The pigeon that Russell and Pepper ride on to find Sunil is drawn and behaves in a more realistic way compared to the other animals in the series.
Brooke Goldner reappears after the season 2 finale, which aired 2 years ago.
Gallery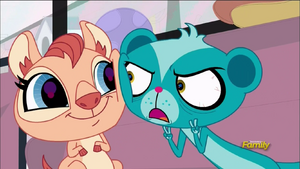 Ad blocker interference detected!
Wikia is a free-to-use site that makes money from advertising. We have a modified experience for viewers using ad blockers

Wikia is not accessible if you've made further modifications. Remove the custom ad blocker rule(s) and the page will load as expected.