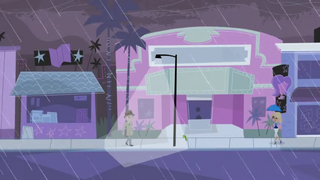 Hollywood is a western city, famous for its entertainment industry. It is where Shake-A-Leg is live broadcast to national television.
Profile
Roger Baxter had a scheduled flight to the city in So You Skink You Can Dance, which gave Blythe the opportunity to take Vinnie to his favorite show's studio. During their trip, Blythe unwillingly took part in the dancing competition.
Wandering by the city, Vinnie met a crew of lizards who also loved dancing. They helped him to get his mood back up, as well as guiding him back to the studio.
Blythe makes mention of the city's sites and beaches, but Vinnie was only interested in the dance show.