Card Maker Match is a free online flash game that playable on both Hub website. It consist of two options. First is a blocks collapsing game. This is where you can unlock a locked stamps on the card maker. You unlocking one stamp per level you complete. And the other one is a card maker, on where you can design and compose your own card using all the available stamps and print it.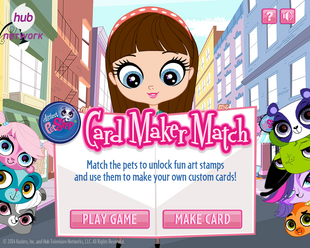 About This Game
Match the pets to unlock fun art stamps and use them to make your own custom cards to send family and friends!
How to Play
Playing the Game:
Swap tiles by clicking one tile, then another right next to it.
Match 3 or more tiles vertically or horizontally to clear them from the board.
Keep an eye out for special power-up tiles that can clear a whole bunch of tiles at once for BIG POINTS!
Match the featured pet enough times to unlock new art stamps and advance to the next level.
Be quick! Once the timer runs out, it's game over.
Making a Card:
Choose backgrounds, characters and stickers to make your very own card creation.
Resize a character or stamp by clicking on it and dragging its corner in or out.
Rotate a stamp by clicking it and then with the mouse held down, dragging the rotate tool in the desired direction.
Delete a stamp by clicking on it and then the trash can.
When your done, just print your card. Have fun!
Stamps
This are the available stamps that you could add on card maker's canvas. Note that this is just the collection of the stamps from the game nor the game itself. Go to the official websites of the game if you want to design your own card.
Card Maker Issue
The card maker has no layering option, when you reselect any stamp on the canvas; it will automatically sends itself on front of the canvas; overlapping the current stamps that you add on front; and this might frustrates you. And since this stamps seem like just an image files inside a flash game, despite the images have transparency; it just like an ordinary images with a white background. Meaning, even you see the stamps on the background and clicked one of it, it will still select the stamps on the front of it. That's why when building a card, start at the background stamps and make sure everything is composed correctly before making your way on adding more stamps toward the foreground.
Also, the card maker use raster images instead of a vector images; so there is a chance that the image will have a harsh crisp edges on the line art when it's resized. Lastly, there is a resizing limit, you could only resize proportionally; meaning the when you resize the width; it will automatically resize the height and vice versa. And the size limit of the stamp are just as large as the canvas' size.
Hint: Quick Way to Unlock Stamps
If you want to unlock all the card maker stamp quickly and doesn't care on beating someone's high score, I suggest that you just keep repeating and beating Level 1 until all the stamps are available on your card maker. Just press the Pause button on the top and click New Game every time you finish Level 1.
Trivia
Gallery
Ad blocker interference detected!
Wikia is a free-to-use site that makes money from advertising. We have a modified experience for viewers using ad blockers

Wikia is not accessible if you've made further modifications. Remove the custom ad blocker rule(s) and the page will load as expected.